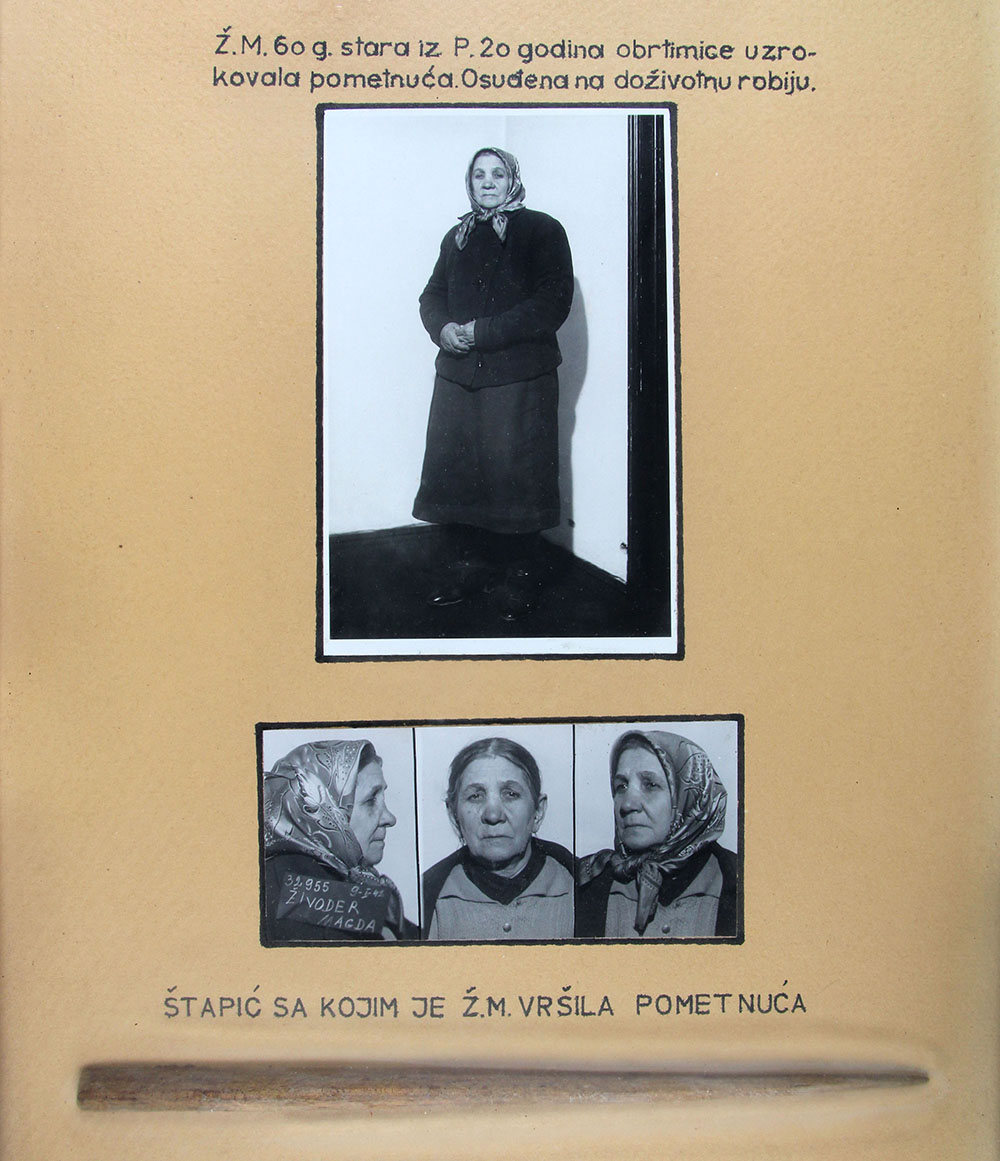 Ž. M. 60 g. stara iz P. 20 godina obrtimice uzrokovala pometnuća. Osuđena na doživotnu robiju. Exhibition stand with photographs and folk instrument, Croatia, 1942, HMMF-565
In a series of individual thematic collections in the Croatian Museum of Medicine and Pharmacy, the Collection of folk medicine takes special place. It is unique not only by its content and variety of objects, but also by its origins and history, which is linked to the setting up of our first Museum of history of health and the role of his first curator Stanko Sielsky. The items collected by Sielski are still an important part of the exhibits of the Croatian Museum of Medicine and Pharmacy founded 70 years after the foundation of its predecessor the Museum of history of health in Croatia.
There are 323 items, which are described in 164 inventory records (according to physical / meaningful entities) arranged in the following thematic units: bloodletting equipment (9 items); folk surgical instruments and their representations (a total of 31 subjects, of which 5 individual objects and 3 exhibition stands containing 10 items and 16 drawings); folk remedies of mineral, plant and animal origin (6 items); amulets, apothecary items and jewelery for the protection against diseases and spells (33 items); christian votive objects: medals – protective pendants (3 items), holy pictures (8 items), votive gifts (21 item), christian inscriptions (15 items); muslim inscriptions (86 records, put together in 14 exhibits), containers for records (9 items); photos on the topic of folk medicine (5 exhibition stands with 26 photos, 12 photographs on cardboard, total of 38 items); herbal manuals (16 items, of which 2 printed books and 14 manuscripts); the rest (2 usable items for folk medicine: stone grinding plate for grass and a palm tree glass). The objects cover the period from the 18th century to the first half of the 20th century, mainly from the continental Croatia and Bosnia and Herzegovina, mainly from the surroundings of Bihać, Banja Luka, Derventa and Tuzla.
The collection of folk medicine of the Croatian Museum of Medicine and Pharmacy HAZU is therefore worthy in two aspects: as a memorial to the efforts of older generations of Croatian doctors and medicine historians to establish museum of medicine, and as planned collected and preserved folk medical heritage, especially thanks to the knowledgeable engagement of collector and first curator Stanko Sielski.