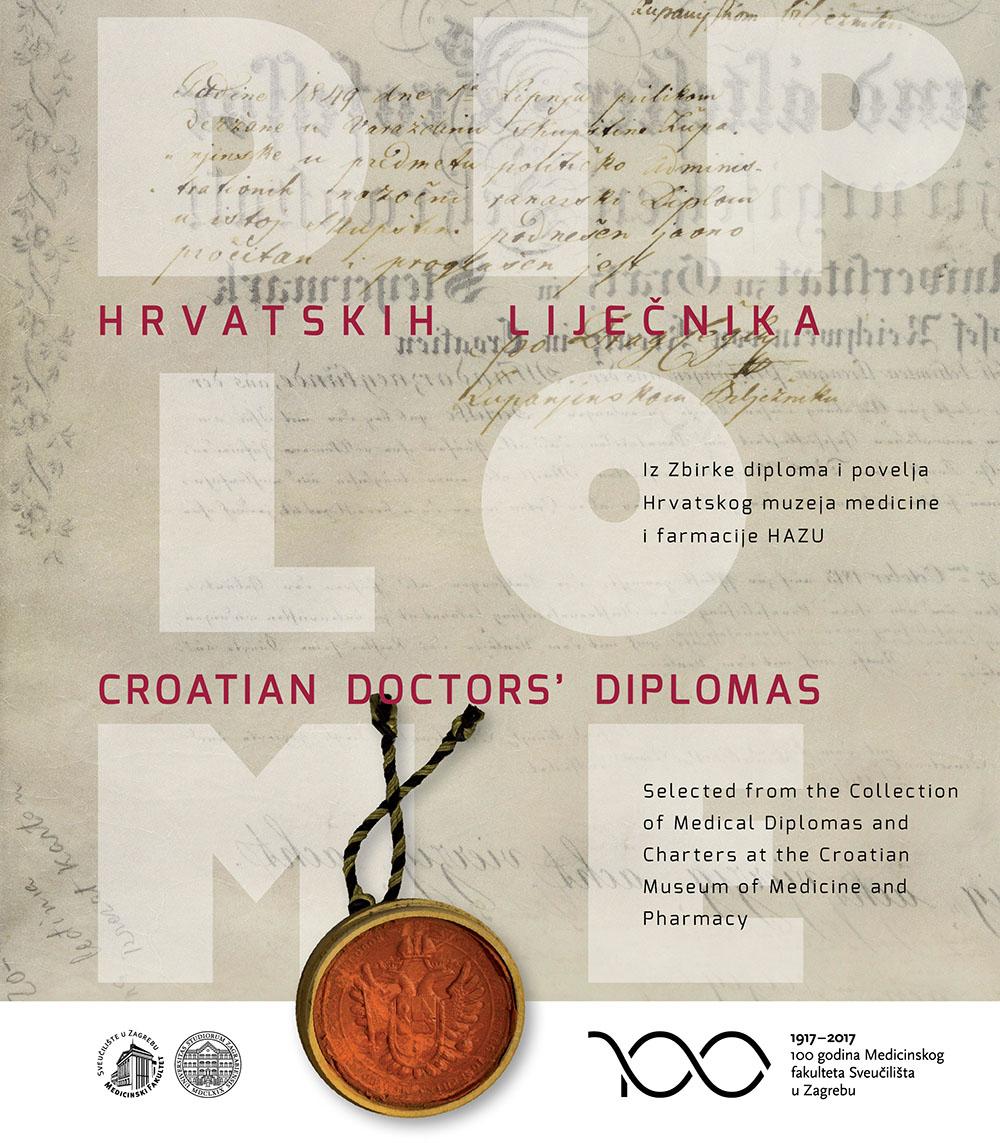 Medicinski fakultet, Zagreb, 6th December 2017 – 28th February 2018
The Diploma Collection has for its most part been preserved at the Division for the History of Medical Sciences HAZU in 24/III Gundulićeva Street in Zagreb, where the Museum was founded. The collection is the result of donations made from private heritage. It contains original documents from the period between the 18th and the second half of the 20th centuries, such as school leaving certificates and diplomas revealing the education and the academic titles obtained by Croatian pharmacists, physicians and other scientists in the area of biomedicine, state issued charters for participation in professional and scientific conferences, as well as awards from exhibitions, and similar. The most common issuing authorities are the universities in Vienna, Graz and Budapest.
These are valuable manuscripts and printed documents recorded on either parchment, paper or cardboard, featuring the academics' signatures, as well as official seals, either wax, applied or pendent. The older diplomas and charters (from the 18th and first half of the 19th centuries)  feature artistic design and graphic ornaments in the styles such as Biedermeier, while the ones from the second half of the 19th and the beginning of the 20th centuries exhibit a distinctive Historicist typography. Furthermore, several medical charters were printed in the Art Nouveau style. Some diplomas and charters have been preserved in valuable period frames or appropriate cases made of metal, cardboard, artificial leather and other materials.
The Diploma Collection has been catalogued and at the beginning of 2016 an application was submitted for its registration in the Register of Cultural Goods at the Croatian Ministry of Culture. The registry officially took place on 14 October 2016. The project for the digitalisation of the collection soon ensued, with the aim of making the collection's content and visual values available to scholars, but at the same time protecting and preserving these fragile materials. The project was realised in 2016 in collaboration with Goran Vržina, an electronic engineer from Zagreb (ACOS servicing of medical equipment, archive scanning and professional photo recording). The digital photographs of the diplomas and charters were recorded with specially designed equipment, which using minimum illumination captures high quality and in-depth image brilliance and sharpness.
The commemorative exhibition celebrating the 100th anniversary of the Zagreb School of Medicine focuses on 23 diplomas and charters from the digital collection of the Croatian Museum of Medicine and Pharmacy. Although these documents are primarily intended for conveying information about the education and achievements of Croatian physicians, it is also interesting as a testimony to the spirit of some periods of time and places, expressed through various materials and techniques used in their making, as well as through their decorating, validating and storing methods. The expensive materials and sophisticated techniques featured on these diplomas and charters show how prestigious these academic and vocational achievements were and how some institutions attempted to form a recognisable visual identity and cheris the tradition.
PROJECT HOLDERS
Croatian Museum of Medicine and Pharmacy
Marko Pećina, Fellow of the Croatian Academy of Sciences and Arts, Museum Director
Prof. DSc Stella Fatović-Ferenčić, MD, Museum Deputy Director
Silvija Brkić Midžić, senior curator, Museum Manager
CO-ORGANIZER OF THE EXHIBITION
University of Zagreb, Zagreb School of Medicine; Dean Prof. DSc Marijan Klarica, MD
AUTHORS OF THE EXHIBITION
Stella Fatović-Ferenčić and Silvija Brkić Midžić
TRANSLATION FROM LATIN
Petar Ušković Croata
DIGITALISATION OF ORIGINAL DIPLOMAS
Goran Vržina
EXHIBITION DESIGN
Ante Rašić, Studio Rašić
GRAPHIC DESIGN AND PREPARATION FOR PRINT OF EXHIBITION BOARDS, BANNERS AND POSTERS
Studio Rašić, Ante Rašić, Ankica Penava Pejčinović
TECHNICAL DISPLAY
Miljenko Domjanić