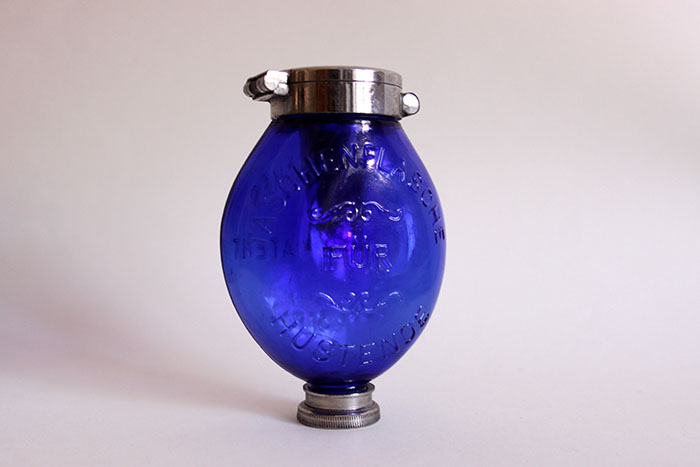 "Blue Henry", HMMF-810
Der Blauer Heinrich, a small blue glass oval bottle with a silver lid, is actually designed very aesthetically, though planned and used for the eye unattractive purpose. The bottle was used for spitting, for coughing out the infectious sputum. In English it is known as Blue Peter or Blue Henri. The origin of the term is unknown. The bottle was used in the period between the discovery of tuberculosis-causing agents in 1882 and the development of effective drug therapy in the mid-20th century. In this period, more and more importance is given to preventive measures and personal hygiene. Spitting on the ground is increasingly perceived as inappropriate and unhygienic behavior. Spittoons were set up in public places, while individuals infected with tuberculosis had personal hygiene spittoons, which would, because of their compact design, fit in every pocket or coat. Below the lid, which could easily be opened with one hand, there is a silver funnel through which the sputum flows into the bottle. Thanks to the funnel, even in the case of a drop of the bottle with the open lid, there was very little likelihood of the contents falling out. At the other end of the bottle, there is a silver plug on the screw to facilitate cleaning and disinfection of the bottle after use. The surface of the bottle was made of transparent glass, allowing for a simple check of the content level, but the strong blue color of cobalt glass still concealed unpleasant contents from the look of others. The inventor of this practical aid is Dr. Peter Dettweiler. Just a few years after the first description of tuberculosis, Dettweiler presented his bottles at the 8th International Congress of Medicine in 1889 in Wiesbaden. The manufacturer was Noelle & Co. in Lüdenscheid, and sold them at a price of 1.5 marks. It is assumed that between mid 1889 and 1940 half a million bottles were produced.
The donated bottle comes in the original packaging – a cardboard box with a declaration, which is also added as a separate paper in the box, and a spare plug on the screw. There are very few preserved bottles with original packaging because they are burned for fear of infection and the like. The first bottles had a patent number of 51691 on one side while on the other stood the label Geheimrath Dr. Dettweiler's Taschenflasche für Hustende. The later bottles had only written the signature of Dr. Dettweiler. Since the donated bottle has a number of patent on the surface, we can assume that it was made in the first years of production.
His literary glory Der Blauer Heinrich acquired in the novel The Magic Mountain by Thomas Mann from 1924. Then, revolutionary therapy that was believed to be able to cure tuberculosis at an early stage was made up of adequate nutrition, rest and stay in mountainous areas without major climate change, wind protected, and the like. In the book, the main character Hans Castorp comes to such a luxurious sanatorium – Berghof, located in Davos, to visit his sick relatives. There he comes into contact with patients using hygienic bottles for expectoration.
"But I have more sputum," he said, shrugging his shoulders unkindly and fiercely at the same time, which did not suit him very well, then he pointed something to his cousin that he just pulled out of his pocket on his side and immediately pushed back: flat and round  blue glass bottle with a metal cover. "Most of us up here have this," he said. – We have a special name for that, funny name, very funny.[1]
– Poor man! He said. – He will not last much longer. There, again, he has to talk to "Blue Heinrich." – Without holding anything back, with a fairly blunt expression on his face, she used that grotesque expression "Blue Heinrich," and Hans Castorp upon hearing those words felt a mixture of horror and laughter. [2]
Dr. Dettweiler was certainly unaware of the fact that his invention could once have a art historical value, and today his bottles are valued up to 150 euros per piece.[3]
[1] Mann, Thomas (2003.) Čarobna gora, Zagreb: Školska knjiga, str. 14.
[2] Mann, Thomas (2003.) Čarobna gora, Zagreb: Školska knjiga, str. 98.
[3] http://www.ardmediathek.de/tv/Lieb-Teuer/Blauer-Heinrich/NDR-Fernsehen/Video?bcastId=33031912&documentId=34076830